Accurate Soft Proofing requires precise visual comparisons between your computer monitor and your proof or print. An iQ enabled viewing system takes the question out of your luminance match and replaces it with repeatable accuracy based on a specially designed light sensor, the iQ.
iQ Sensor
The hand held iQ light sensor wirelessly communicates with an iQ compatible viewing station and captures the brightness level of the monitor. This data is automatically communicated to the iQ compatible viewing station where it is used to calibrate the light level of the viewing station to achieve an optimal match to the luminosity of the monitor.
The iQ sensor also automatically calibrates the viewing station. During the calibration process, the sensor adjusts for ambient room light and linearizes the brightness of the viewing station to provide push-button setting to 500 lux, the ISO standard for soft proof color viewing.
iQ Viewers for Soft Proofing
iQ enabled viewers provide the necessary features for implementing an accurate soft proofing workflow. Standard features include GTI's innovative iQ technology, single and/or dual LCD monitor mounting on large format booths, and ergonomic designs to enhance this important application.
Desktop
The Soft View SOFV-1xiQ has a viewing area of 24" x 19.5" (61 cm x 50 cm). It includes upper and lower luminaires, side walls, automatic calibration, and GTI's wireless iQ sensor technology.
Large Format
A soft proofing system from GTI guarantees calibration and accurate luminance between a monitor and hard copy artwork with a push of a button.
The key component to GTI's large format soft proofing systems is the GLE-532A/iQ digital dimming luminaire and wireless iQ sensor.
EVS/iQ Viewing Stations
GTI's iQ soft proofing capabilities can be combined with an EVS viewing station to enhance the color management process. Single or dual LCD's (up to 30″) can be mounted on the rear wall of the viewing station. The iQ models below come complete with the iQ sensor system, digital dimming, floor stand with casters, side walls, keyboard drawer, and D50 light quality.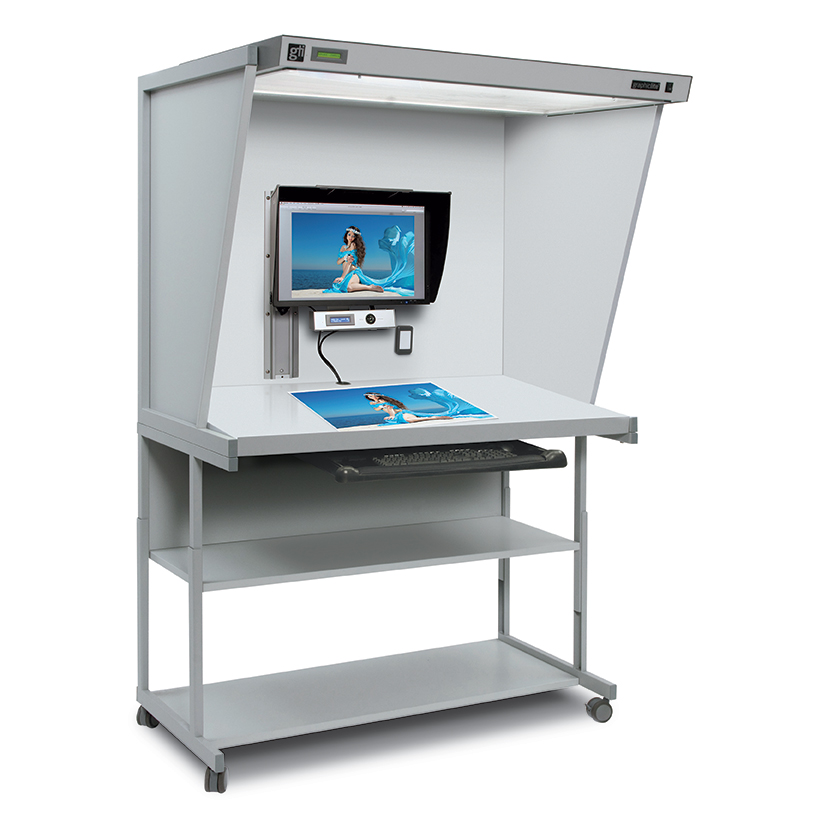 Model
Viewing Area (D X W)
EVS-2540/iQ
24" x 40" (64 cm x 102 cm)
EVS-3052/iQ
29" x 52" (74 cm x 132 cm)
EVS-3552/iQ*
35" x 52" (89 cm x 132 cm)
EVS-35106/iQ*
35" x 106" (89 cm x 269 cm)
*Dual LCDs can be mounted on the EVS-3552/iQ and EVS-35106/iQ.
VPI/iQ Viewing Stations
GTI's iQ technology can be added to the VPI-40 and VPI-52. In addition to the iQ sensor system, these models include upper and lower digital dimming luminaires, side walls, casters, and a computer/monitor section.
| Model | Viewing Area (D X W) |
| --- | --- |
| VPI/iQ-40 | 40" x 45" (102 cm x 114 cm) |
| VPI/iQ-52 | 52" x 45" (132 cm x 114 cm) |
Pressroom
MCVE/iQ Modular Color Viewing Environment
Ideal for web press consoles, the MCVE/iQ is a custom fit viewing system for soft proofing. It adapts to your press console and provides full and variable intensity lighting plus a sliding single or dual LCD mount that rotates out of the way of the signature panel.